Of late there are a number of cases of corruption involving politicians, bureaucrats and even high ranking Defense officers. Our Country ranks 84 in the corruption index and stands within 40 amongst the most corrupt countries of the world. How can we aspire to be a developed country without eradicating corruption in public life. I always say, we are a corrupt country under an honest PM. What can the honest PM  do when his party, as all other parties, try to amass wealth for fighting election and some percentage of it goes to individual's pocket. Hence I can say with confidence that none of our politicians can be honest in the present system. It is suicidal that even Defense officers, who have to lead the troops to war and who are supposed to be the role models in front of Jawans and Junior officers, have fallen prey to it. How can the country face the next war when their chiefs are dishonest, which was unbelievable in my 30 years of Army service. I am sure unless this is tackled on war footing, the consequences will be disastrous.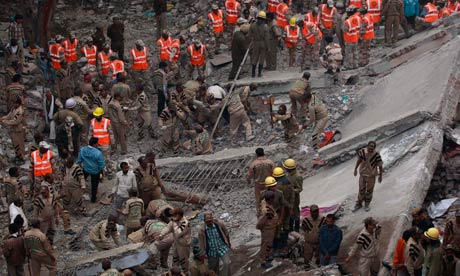 There are methods to tackle this menace. Let us introduce pre audit at every stage for all  major expenditure, which can be out sourced to reputed organizations. Why should we wait  till the country looses an hefty amount of 1 lakh and 76 thousand crores  in  the Two G  Spectrum issue  or   a large sum in the CWG.  We  relax the system for the miscreants to swindle the money and then declare enquiry commission to investigate the matter. We first pollute the rivers by throwing dead bodies, discharging industrial waste and drainages to the river and then import foreign technologies to clean the rivers. What a paradox? We allow unauthorized construction of  5 storey buildings near the River basin through corrupt practices (recent case of  collapse of  5 storey building at Laxmi Nagar, Eest Delhi) and when the building collapses killing hundreds of people, our politicians come forward in front of  Media to give lame excuses and give assurances to hold a commission of  inquiry. Let us stop this gimmick, which I hope the PM, on whom I have great faith, is listening.
Similar is the case of Adarsh Society episode. Every one was silent spectator till the 31 storey building came up on Defense Land in connivance with politicians, bureaucrats and Senior Defense Officers and now, once it was unearthed, every one including the Environment Ministry is asking for its demolition. What a shame?  Why can't this building be given to Defense for housing the electronic warfare equipments (Force Multiplier) to monitor the movements of  insurgents or forces with evil design for the security of the coast.
I  remember an incidence during my tenure as part of Corporate Social Responsibility Team of a corporate house in Jharkhand. I tried to convince a DDC of a District, who happens to be a lady, about the importance of correct execution of NREGA scheme with participation of Gram Sabha (Village Development Committee) under the Prime Minister's Bharat Nirman Programme. The Lady was not interested in the discussion on the issue and she sharply diverted our discussion to the point of her interest asking me " colonel sahib let us forget about Bharat Nirman  and come to the point".
We want this country to be free of corruption and population explosion, for our future generation to live in a healthy, happy and secured environment. Let us introduce ISO 9000 type of thing in

 

all our public dealings so that the system is full proof against corruption.
Say No to Corruption
http://corruption.ozg.in/2010/11/corruption-led-killing-in-india.html